Private Tour: Teide National Park Tour in Tenerife Including Mt Teide Hike and Cable Car
Europe » Spain » Canary Islands » Tenerife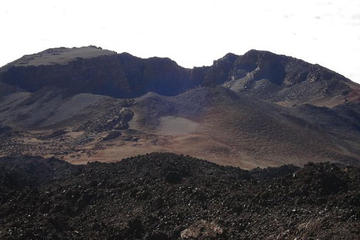 (5.0)
Duration: 5 hours
Departs: Tenerife, Spain
Price from USD 117.15
Book Now
Venture to the top of Tenerife's Mt Teide volcano on this private, half-day tour, led by an expert guide. After traveling through the beautiful Corona Forestal Natural Park and the verdant Chío area or stunning La Esperanza, head into the UNESCO-listed Teide National Park. Drive up the mighty volcano in your private vehicle, disembarking at Las Cañadas Caldera for sweeping island vistas. Then, ride a cable car to a staggering 10,650 feet (3,246 meters), and set off on a 30-minute hike to the highest point in Spain.
Begin with a pickup from your Tenerife hotel, and then travel by air-conditioned car or minivan (depending on the size of your private group) to Teide National Park, a UNESCO World Heritage site that surrounds Mt Teide, a volcano located at the heart of the island.
Have your camera ready as you pass through the leafy landscape of the Corona Forestal Natural Park. If your hotel is located in southern Tenerife, gaze out at the verdant Chío area. Or, if you're based to the north, be wowed by the volcanic moonscape of La Esperanza.
Then, as your vehicle ascends the side of Mt Teide, listen to your guide share fascinating facts and details about this still-active volcano that is among Spain's highest peaks. After traveling to a height of around 6,000 feet (1,823 meters), hop out of your vehicle and pause to take in the incredible island views.
Cross over the expansive Las Cañadas Caldera, and then board the cable car with your included skip-the-line ticket to discover panoramas that stretch over the whole island and caldera. After your 8-minute cable car ride, arrive at 10,650 feet, where you'll begin your hike to the highest point of Spain.
Set off behind your guide and marvel at the landscape, with its rivers of petrified lava and eroded rock formations, broken up by colorful wild flowers. After roughly 30 minutes, arrive at the Mt Teide crater, where astounding views of Tenerife and the Canary Islands await.
When the time comes, return to your private vehicle. Your tour then concludes with a drop-off back at your hotel.
Please note: In the event of unfavorable weather conditions, the tour will hike around Las Cañadas Caldera instead.
« All Activities